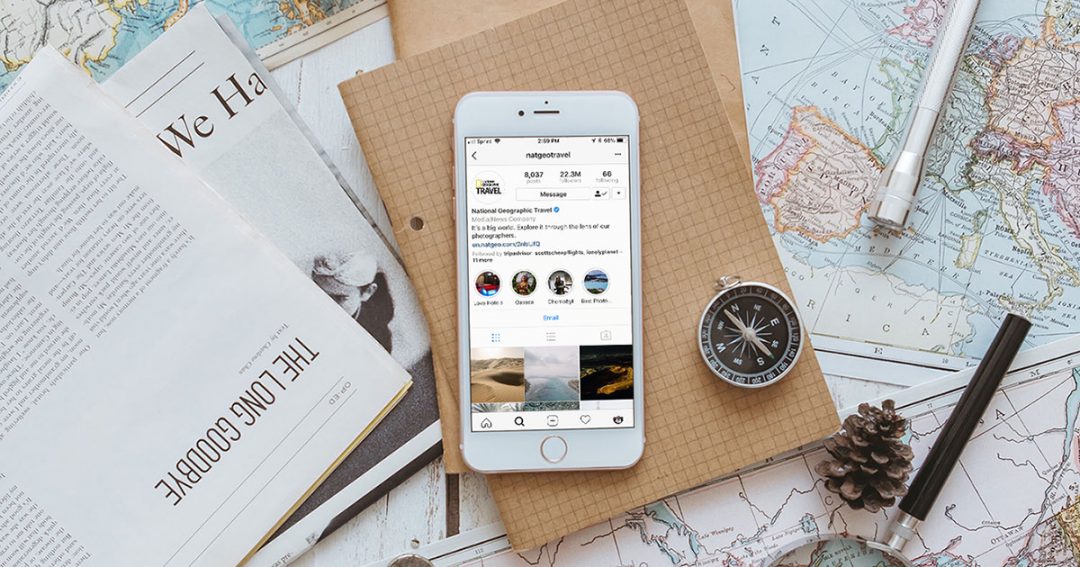 We use social media in just about every stage of travel. We discover where we want to go while scrolling through Pinterest and Instagram. We've ditched guidebooks and translation guides in favour of apps like Lonely Planet and Google Translate. We're avoiding travel agents and instead, are using Expedia, Kayak and other travel hacking websites to get us the best deal. Then once we're off on our adventure, we use Instagram, Facebook, Twitter & Snapchat to keep our family and friends updated with our epic moments as we go.
I recently arrived home from an epic vacation in Costa Rica and while I turned off my notifications and took a hiatus from managing accounts, I did sign into my personal profiles to keep my family and friends in the loop with all my adventures. I recorded videos, posted boomerangs and filled my Instagram feed with photos as I made my way through my ten day adventure. As I develop into a more avid traveller, I'm discovering that social media plays a large role in how I research, plan and share my travel experiences.
Technology has done more than make travel convenient, it's also made the process a lot more eco-friendly with advance digital checkins for hotels, e-tickets for events and boarding passes that can be scanned on our phones.  It's also helped simplify our packing routines by squeezing multiple functions into singular devices like smartphones.
It's even helped us surpass one of the biggest previous barriers known to travellers; understanding and using foreign languages. It's eliminated the need for phrase books by giving us the insight we need in the palm of our hands through apps like Google Translate and Duolingo. Technology has also made the entire process easier and safer when it comes to electronic payments.
Aside from technology impacting travellers individual experiences, businesses and tourism boards are also getting in on the action with branded and location-based hashtags promoting certain regions or activities. Businesses are also using chat bots on social media to answer questions, deliver tailored customer service solutions and provide added value to travellers. No matter how you spin it, technology has drastically changed the travel industry and will continue to impact it as more advancements are made. No one knows for sure what the future will hold for travellers, but you can bet it'll be pretty cool!
How has technology made your personal travel experience better?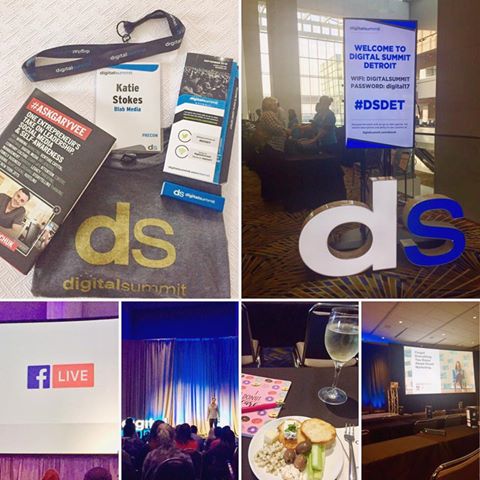 Another year, another Summit event! In 2016 Blab attended Digital Summit Detroit for the first time and had a blast. There was so much information to be absorbed, so many networking opportunities and an awesome lineup of talented guests speaking on a variety of digital/tech topics. I even got to meet Ann Handley from Marketing Profs and listen to the real life Siri chat with the crowd on stage. This year may not have had me feeling as star struck, but it was just as valuable in terms of content and experiences.
The event was two full days of learning from 7:30am to 5:30pm at Cobo Centre downtown. Sharing my referral link online got me a free book, t-shirt and even VIP lounge access so I was looking forward to experiencing the event in style. Day one started with a four hour pre-conference workshop where I learned everything there is to know about email marketing. What a valuable workshop! It was packed with internet research, industry knowledge and even actionable takeaways. The rest of the day was spent  attending a 6 other sessions covering topics such finding success with Facebook Live posts, creating shareable content, marketing to millennials and how artificial intelligence can help your business. We even got to hear from Jonah Peretti, co-founder of Buzzfeed and Huffpost. What an awesome experience!
Day two started with networking over coffee and was followed by 12 other informative sessions on social ads, online reviews, storytelling, going mobile, UX design, harnessing the power of content and more. I learned about new software, gadgets and best practices that will ultimately make Blab a stronger and smarter local competitor. Another successful year and I haven't even had time to go through all my notes yet!
This month was one of our most anticipated events of the year – Startup Canada's Day on the Hill. An annual event that brings together government leaders and the entrepreneurial community to create dialogue and advance Canadian entrepreneurship. As a Media Sponsor, Blab Media was responsible for creating content, taking photos/videos, managing social channels and generating conversation online throughout the event. Our goals were to lead the conversation online, generate excitement for attendees and keep the rest of the Startup community informed online. While it was a very busy job, working with Startup Canada makes me proud to be an entrepreneur and after attending Day on the Hill in Ottawa, I definitely felt the growing passion other Canadians have for it too.
This one day event brought together nearly 1,000 attendees – a mix of seasoned entrepreneurs willing to share their insight and young startups trying to make meaningful connections. It featured some of Canada's top entrepreneurs, inspiring Startup Community leaders, media personalities, and government decision makers. The day program was fast paced and fed off of all the positive energy from the attendees. I've been to a lot of business events (surprise right?) and sometimes I feel like the networking gets impersonal and well… boring. This didn't happen for a second and it honestly shocked me. There was a sense of camaraderie – everyone was there with the same goals and it was a collective effort to get to know each other. Where else am I going to hear Frank O'Dea (Founder & CEO of Second Cup) tell the most inspiring rags to riches journey of starting a business, meet Kellie Leitch (Minister of Labour and Status of Women) and Kerry-Lynne Findlay (Minister of National Revenue), laugh along with Dr. Sean Wise (consultant to CBC's Dragon's Den), and still get the opportunity to have real conversations with them? I was in entrepreneurial heaven. Packed bootcamps, free mentorship clinics, meaningful government roundtables,  an evening soiree, and a bbq after party – it was tough to see it come to an end but I came home inspired and motivated to be a better entrepreneur.
Between all the tweeting, hand shaking, note taking (old school pen and pencil style), device charges, and awkward photo bombs I put together a highlight of my most loved moments from Day on the Hill 2014.
– Jessica