Although I've never been able to attend this incredible event in person, I'm excited to announce that this year Blab Media has registered for a virtual conference pass! Over 100 presentations from industry experts covering a massive range of topics from building engagement online to mastering the art of the podcast and I can soak it all in from the comfort of my own home while networking with attendees online. The event takes place April 17-19 in San Diego California and hosts people from over 50 countries! Representatives from massive global brands and executives from the top social platforms will also be in attendance. I'm really looking forward to connecting with likeminded businesses and professionals online and streamlining my skill set by learning best practices, gaining industry insight and exploring new digital trends.
Stay tuned to our social channels for updates and insight during the conference. Only 41 days to go!
-Katie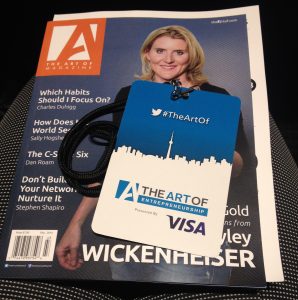 This month I (Katie) had the opportunity to attend The Art Of Entrepreneurship Conference in Toronto courtesy of our client Startup Canada, a sponsor and strong supporter of the event. I joined 1500 other passionate and driven attendees for an afternoon of presentations from internationally renowned bestselling authors, thought leaders and entrepreneurs, who shared with us an exciting blend of cutting edge thinking and real world experience on today's most critical business issues. My favourite speakers were Debbie Travis (largest celebrity brand in Canada) whose personality and stage presence really blew me away, Alexis Ohanian (co-founder of Reddit) whose crazy stories and laid-back attitude made him a blast to listen to and Eric Ryan (co-founder of Method Cleaning Products) whose sense of humour and outlook on business was both refreshing and hysterical. Overall it was a fantastic networking opportunity and a day filled with inspiration, insight and energy. I absolutely have to share the following closing remarks from host Ron Tite who summed up the day's lessons and advice from all the speakers and turned it into a truthful and incredibly witty outlook on entrepreneurship:
We learned that business – aka selling shit – is about depth. We learned that Entrepreneur is French for "Has ideas. Does them." It's someone who will work 24 hours a day for themselves opposed to working 1 hour a day for someone else. But that dedication isn't enough. How do you start it? How do you build it? How do you grow it?

Start with what you have. Coming up with great ideas is easy. Coming up with your values is easy. Writing down what you want to do is easy. Doing it and sustaining it is entirely different. Ideas are worthless. Execution is everything. And luck, my friends, has nothing to do with it.
Freedom is what we want and value is how we achieve it. And you don't need to open a factory, just open your laptop.
Don't play house. Find your passion. Figure out if you have a good idea.

Surround yourself with the best. After all, others can steal your ideas or steal your products. But they can't steal your culture. And they can't steal your relationships.
Admittedly, no one has any idea what they're doing. So just… trust your gut. Be authentic. Be helpful. Be balanced. Be happy.
Be in the right place. At the right time. With the right offer.
Market in the year you live in.
Have a sense of humour.
Think "yes and", not "yes but…" And on that note, say yes to the doughnut.
Don't care about your competition. Care about your people.
Reality isn't a solution. So…
Embellish. Lie. Hustle.
Create from scratch.
Make great stuff.
Marry a team player.
Embrace risk. Embrace mistakes.
Attack monsters, not villains.
Experiment with pricing.
Stay in your lane.
Protect the daisy.
Inspire advocates.
Sleep your way to the top. But remember, sex is like marketing. Only losers pay.
Keep it weird because weird people change the world.
We're all in this together. So let's all make the world suck less.
Live it. Dream it. Do it.
– Katie