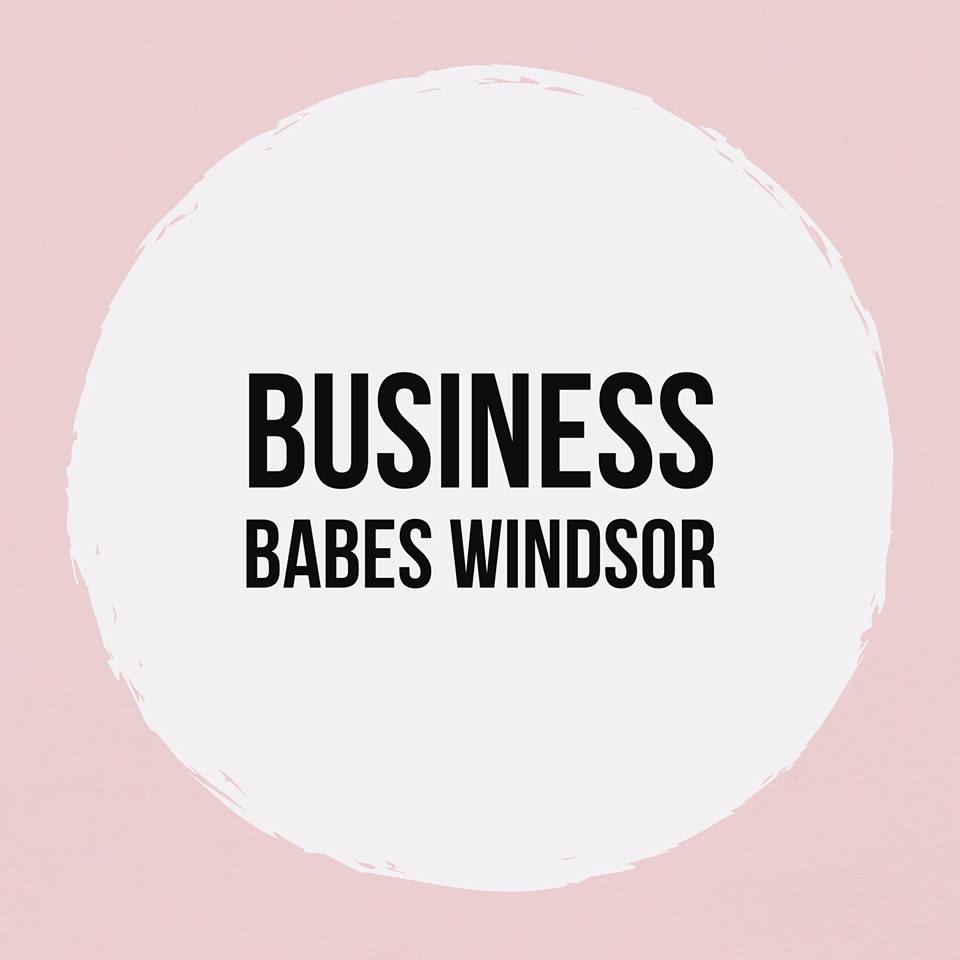 Entrepreneurship can be incredibly difficult. It can be stressful, tiring, exhausting, scary and often times, it can isolate you from friends and family who just don't understand what you're going through. It's for this reason that I decided to start a small Facebook community where female entrepreneurs in the Windsor area can connect, network, educate and inspire each other on a regular basis. Members can share their entrepreneurship story, reach out for insight, promote events/promotions, ask questions, share inspiration, motivate others and just enjoy connecting with other women who understand their mindset and goals.
Business Babes Windsor is in its infancy right now, but it would be great to see more female entrepreneurs join up. Being a mentor is such a valuable experience and I'm a big advocate of helping others succeed. In my opinion, we rise by lifting others and this group makes that possible. Whether you've been an entrepreneur for years, you just started a business or you're curious about what it all entails, this group offers the perfect casual backdrop for conversation and education at any level.
Supporting local is incredibly important to me so encouraging others to explore entrepreneurship by providing them with the tools, network and support they need is the best way to give back to Windsor. Small, independent businesses are what make every city unique and vibrant. Plus, at the end of the day, the world could use more dreamers and doers!
This month was one of our most anticipated events of the year – Startup Canada's Day on the Hill. An annual event that brings together government leaders and the entrepreneurial community to create dialogue and advance Canadian entrepreneurship. As a Media Sponsor, Blab Media was responsible for creating content, taking photos/videos, managing social channels and generating conversation online throughout the event. Our goals were to lead the conversation online, generate excitement for attendees and keep the rest of the Startup community informed online. While it was a very busy job, working with Startup Canada makes me proud to be an entrepreneur and after attending Day on the Hill in Ottawa, I definitely felt the growing passion other Canadians have for it too.
This one day event brought together nearly 1,000 attendees – a mix of seasoned entrepreneurs willing to share their insight and young startups trying to make meaningful connections. It featured some of Canada's top entrepreneurs, inspiring Startup Community leaders, media personalities, and government decision makers. The day program was fast paced and fed off of all the positive energy from the attendees. I've been to a lot of business events (surprise right?) and sometimes I feel like the networking gets impersonal and well… boring. This didn't happen for a second and it honestly shocked me. There was a sense of camaraderie – everyone was there with the same goals and it was a collective effort to get to know each other. Where else am I going to hear Frank O'Dea (Founder & CEO of Second Cup) tell the most inspiring rags to riches journey of starting a business, meet Kellie Leitch (Minister of Labour and Status of Women) and Kerry-Lynne Findlay (Minister of National Revenue), laugh along with Dr. Sean Wise (consultant to CBC's Dragon's Den), and still get the opportunity to have real conversations with them? I was in entrepreneurial heaven. Packed bootcamps, free mentorship clinics, meaningful government roundtables,  an evening soiree, and a bbq after party – it was tough to see it come to an end but I came home inspired and motivated to be a better entrepreneur.
Between all the tweeting, hand shaking, note taking (old school pen and pencil style), device charges, and awkward photo bombs I put together a highlight of my most loved moments from Day on the Hill 2014.
– Jessica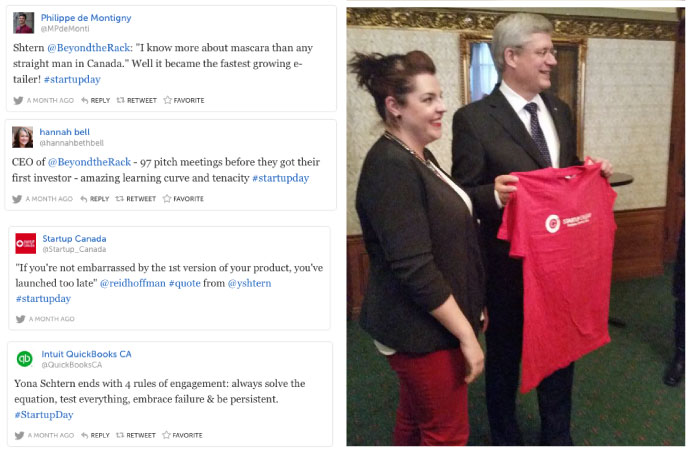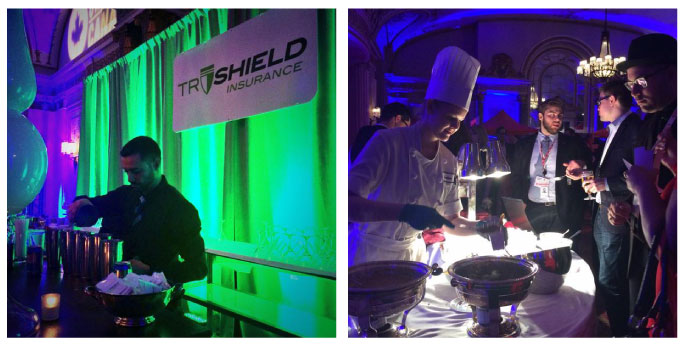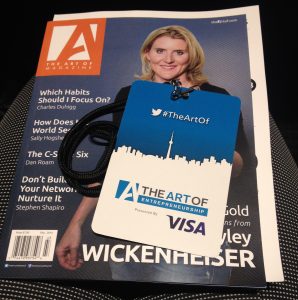 This month I (Katie) had the opportunity to attend The Art Of Entrepreneurship Conference in Toronto courtesy of our client Startup Canada, a sponsor and strong supporter of the event. I joined 1500 other passionate and driven attendees for an afternoon of presentations from internationally renowned bestselling authors, thought leaders and entrepreneurs, who shared with us an exciting blend of cutting edge thinking and real world experience on today's most critical business issues. My favourite speakers were Debbie Travis (largest celebrity brand in Canada) whose personality and stage presence really blew me away, Alexis Ohanian (co-founder of Reddit) whose crazy stories and laid-back attitude made him a blast to listen to and Eric Ryan (co-founder of Method Cleaning Products) whose sense of humour and outlook on business was both refreshing and hysterical. Overall it was a fantastic networking opportunity and a day filled with inspiration, insight and energy. I absolutely have to share the following closing remarks from host Ron Tite who summed up the day's lessons and advice from all the speakers and turned it into a truthful and incredibly witty outlook on entrepreneurship:
We learned that business – aka selling shit – is about depth. We learned that Entrepreneur is French for "Has ideas. Does them." It's someone who will work 24 hours a day for themselves opposed to working 1 hour a day for someone else. But that dedication isn't enough. How do you start it? How do you build it? How do you grow it?

Start with what you have. Coming up with great ideas is easy. Coming up with your values is easy. Writing down what you want to do is easy. Doing it and sustaining it is entirely different. Ideas are worthless. Execution is everything. And luck, my friends, has nothing to do with it.
Freedom is what we want and value is how we achieve it. And you don't need to open a factory, just open your laptop.
Don't play house. Find your passion. Figure out if you have a good idea.

Surround yourself with the best. After all, others can steal your ideas or steal your products. But they can't steal your culture. And they can't steal your relationships.
Admittedly, no one has any idea what they're doing. So just… trust your gut. Be authentic. Be helpful. Be balanced. Be happy.
Be in the right place. At the right time. With the right offer.
Market in the year you live in.
Have a sense of humour.
Think "yes and", not "yes but…" And on that note, say yes to the doughnut.
Don't care about your competition. Care about your people.
Reality isn't a solution. So…
Embellish. Lie. Hustle.
Create from scratch.
Make great stuff.
Marry a team player.
Embrace risk. Embrace mistakes.
Attack monsters, not villains.
Experiment with pricing.
Stay in your lane.
Protect the daisy.
Inspire advocates.
Sleep your way to the top. But remember, sex is like marketing. Only losers pay.
Keep it weird because weird people change the world.
We're all in this together. So let's all make the world suck less.
Live it. Dream it. Do it.
– Katie