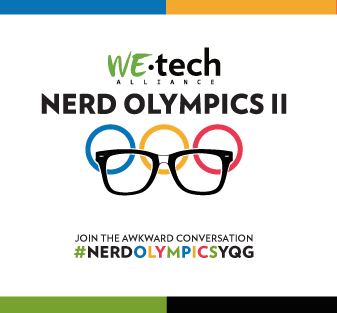 Super excited to be a sponsor for WEtech Alliance's 2nd annual Nerd Olympics. The event brings together the Windsor-Essex tech community in a fun, team-building competition to challenge the mind & body. It kicks off with the official Opening Ceremonies and Nerd Torch lighting ceremony before the first event on Tuesday September 5th.
Sixteen Tech Company teams will compete in a series of events spread out over the course of three months and just like the real Olympics, they'll be able to win Gold, Silver & Bronze 3D printed "medals" for each event. The whole event will culminate with the Closing Ceremonies happening at the Tech Awards on Friday November 17th with a presentation of the coveted Nerd Cup.
As a social media challenge sponsor, Blab will be providing all teams with a unique social media challenge that they'll need to complete for points. The best part? Blab will be at the closing ceremonies to present the challenge award to the team who did the best job. Stay tuned to Blab and WEtech Alliance's social channels for updates and announcements as the event progresses and don't forget to follow along during Blab's challenge week from September 25 – October 1st to see the entries submitted in real time online. Let's go nerds, you got this!