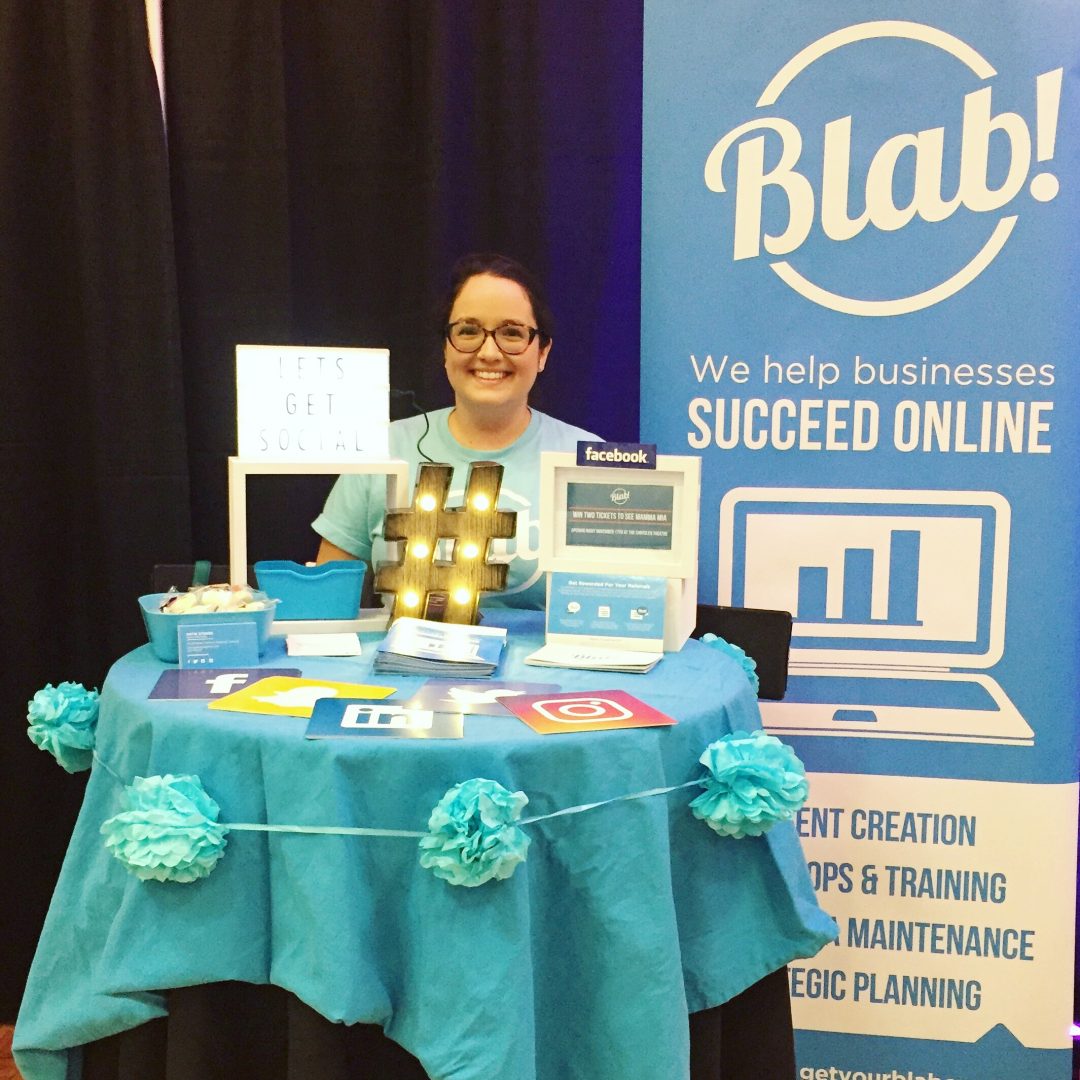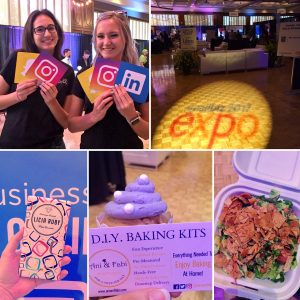 Last night was a blast! Shoutout to The Windsor-Essex Small Business Centre for putting on an awesome event. Over 70 exhibitors set up shop at The Caboto Club to sell food, alcohol, beauty products, apparel, giftware and more. Blab had a cocktail table in the B2B lounge and had a chance to chat with so many awesome individuals and entrepreneurs about social media marketing. Got to catch up with some good friends and even made some valuable new connections. Blab shared the lounge area with friendly neighbour Biz X Magazine and a handful of other local service based businesses.
The event was the perfect excuse to show off Blab's new popup banner and print material (sell booklets and social postcards) courtesy of Imaginative Group. It was really great to see how consistently the brand was communicated across all pieces. There's still something to be said about a nice and functional print piece. Definitely a solid investment!
While fitting everything on a small cocktail table was a challenge, it ended up being the perfect amount of space to showcase my print and add some personality to my display. It's really important to stay true to your brand, no matter which customer touchpoint you're exploring.
After a few hours of mingling in the lounge, I managed to escape and grab some food! I picked up some dinner from Cedar Valley Selections (seriously their fattoush salad is amazing) and I couldn't leave without a few delicious treats from Licia Ruby, Ani & Fabi and Sweet Revenge Bakeshop. By the end of the night, over 500 attendees passed through the doors to shop, eat, drink and mingle. What a great way to support local!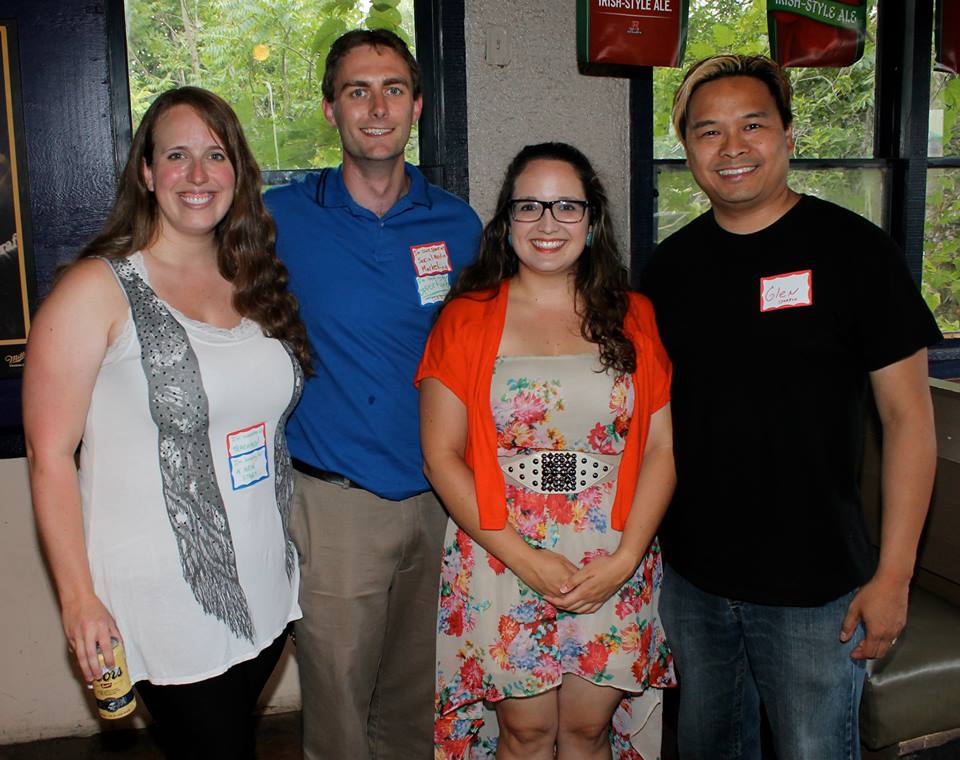 Last week I had the opportunity to speak at the YKNOT Windsor-Essex 3rd 3rsdays Monthly Mixer as part of a new initiative from The G.L.E.N. Project called the Mentoring Young Minds Speaker Series. I sat down with Glen to talk about why I choose to stay in Windsor-Essex, how I established my business, the pros and cons of the city, insight into entrepreneurship, and advice for young people that are looking for jobs or opportunities in the area. We received many questions from the audience and were able to have a great discussion about living and thriving in Windsor-Essex. If you missed the event, we hope to see you at the next 3rd 3rdsday Monthly Mixer in September where Glen will be interviewing another awesome young mind! Be sure to connect with YKNOT Windsor-Essex on Facebook and Twitter to get updates on upcoming events.
-Katie
It seems like the process of networking has changed a lot over the past few years with the development of new technology. Gone are the days of filing business cards and keeping business contacts on blocked social media profiles. Things have changed and the wide world of mobile apps has a lot to do with it. We're using our smartphones to make our lives easier in every aspect so why not use them when we make new connections? Take a look at our top three mobile apps to help push your networking practices into the 21st century.


Hashable

Described as the "ultimate networking app," Hashable offers a unique user experience that takes it roots from the check-in craze. Sure, all your friends are checking in to restaurants and TV shows, but have you ever considered the concept of checking in with a person? Luckily for us, Hashable has! As a user you can track your meetings, calls and other events either privately or publicly which makes it easier for you to remember who you spoke with and why. You can type in another persons email address or Twitter username to exchange contact information directly with them and you can even expand your network by watching who your friends connect with.
One of the great things about Hashable is it allows you to connect and network on the go through your smartphone so if you make a connection in an unexpected place, you don't have to worry about not having a stack of business cards on you. What Hashable focuses on is tracking your strongest relationships and in a world so heavily dependant on constant communication, this free app makes the stress of networking and keeping in touch less of a burden.


CardMunch

Have you ever lost an important business card and in turn, an important contact? If you answered yes then this app is definitely for you! CardMunch allows you to take a photo of a business card and it then pulls important information like the name, phone number, email, website, and address, and creates a new contact on your phone in seconds so you'll always have that contact's information no matter where you go. Business card enthusiasts can leave their binders at home because this app will save you a lot of storage space! With a simple flip of your phone you can also view all the business cards you've snapped photos of in a beautiful rolodex style.
If you're a fond user of Linkedin, you'll be happy to know that CardMunch is owned by Linkedin so scanning a contact's business card and adding them to Linkedin through the app is only a one-click process. As a user you'll also have the option to use the search function if you're looking for someone but can't quite remember his/her name. As for storage, CardMunch can either add your contacts to your iPhone address book or create a separate CardMunch address book to keep you more organized; the choice is yours. On top of all these features is peace of mind. CardMunch automatically backs up all the contacts you've added through the app on your web account so you can log in anytime, anywhere, and retrieve lost data.
I think the best part about this app is that it's completely free! As networking professionals, we're always looking for tools to make mundane tasks easier and to integrate social media into our every day lives so CardMunch is definitely worth it!


Quora

Networking online can be a difficult process. It's never easy to find the right people in the right place and as a business person you never want to scare them away with a sales pitch. The folks at Quora must have asked themselves, "Why doesn't the internet have a place where professionals of any ranking can ask business questions and participate in conversation?" After some intense brainstorming and planning, Quora was born! As a networking professional, using your skills online is important and Quora helps connect you to a vast array of people including CEO's of major North American companies and even business enthusiasts who just want a place to connect and talk.
Using your knowledge on a specific subject to help another business person in need, is better than any hard sale tactic that would typically drive them away. What Quora does is give you an opportunity to show others what you're made of and have intelligent discussions about topics that are near and dear to you. As a user you can ask or answer any questions you want, you can follow topics that interest you, communicate through messages, add connections and create a biography. You can log in via the website or through the free app for your smartphone. This is one social network you can't afford to miss out on!