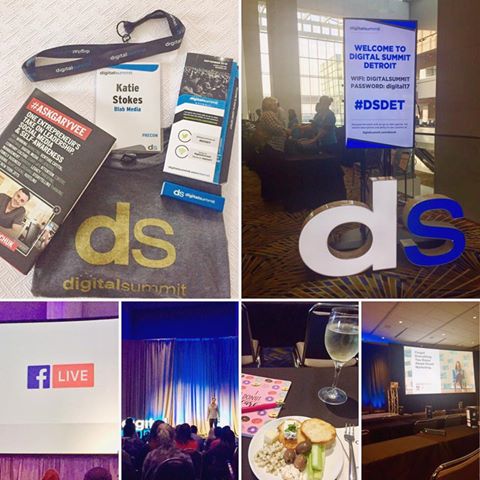 Another year, another Summit event! In 2016 Blab attended Digital Summit Detroit for the first time and had a blast. There was so much information to be absorbed, so many networking opportunities and an awesome lineup of talented guests speaking on a variety of digital/tech topics. I even got to meet Ann Handley from Marketing Profs and listen to the real life Siri chat with the crowd on stage. This year may not have had me feeling as star struck, but it was just as valuable in terms of content and experiences.
The event was two full days of learning from 7:30am to 5:30pm at Cobo Centre downtown. Sharing my referral link online got me a free book, t-shirt and even VIP lounge access so I was looking forward to experiencing the event in style. Day one started with a four hour pre-conference workshop where I learned everything there is to know about email marketing. What a valuable workshop! It was packed with internet research, industry knowledge and even actionable takeaways. The rest of the day was spent  attending a 6 other sessions covering topics such finding success with Facebook Live posts, creating shareable content, marketing to millennials and how artificial intelligence can help your business. We even got to hear from Jonah Peretti, co-founder of Buzzfeed and Huffpost. What an awesome experience!
Day two started with networking over coffee and was followed by 12 other informative sessions on social ads, online reviews, storytelling, going mobile, UX design, harnessing the power of content and more. I learned about new software, gadgets and best practices that will ultimately make Blab a stronger and smarter local competitor. Another successful year and I haven't even had time to go through all my notes yet!
This morning as I scrolled through my seemingly endless Facebook News Feed, I had a chance to check out the new Reactions feature that is now available when you hover over the "Like" button anywhere on the website. Reminiscent of Buzz Feed's Reactions, the new option lets you express how you feel about a friend's update with a pre-selected emoji that is assigned to a specific response (Like, Love, Haha, Wow, Sad and Angry). While the selection is small to start, I'm sure the options will continue to grow once Facebook has a chance to test it out and see how users respond.
I have to admit that I'm not a huge fan. I find that real, genuine interaction on Facebook is already so difficult to come by and that giving people another way to opt out of actual conversation isn't exactly a step in the right direction. There seems to be a delicate balance between simply "Liking" a status and becoming a legit internet troll these days and I don't think these reactions are going to help. You know when you post something and in your mind it's the funniest, smartest, happiest, most insightful thing you've ever said? You start imagining all the interaction, engagement and conversation it's going to generate and in the end it falls flat with 25 "likes" and one comment from your Grandma that consists of three poorly selected emojis. That entire situation seems all too common these days, especially on Facebook where people confuse interaction/engagement with a hollow "like" on your status or photo. It seems that as time passes, these networks are becoming less about genuine action and more about social image. Or maybe I'm just too much of an emoji-snob? Who knows!
What do you think of this new feature? Do you think it will add value to your every day interactions on Facebook or will it only make communication on the platform worse?