Windsor Women In Business Show
Last night was fantastic! I spent the evening in a room full of incredibly passionate and motivated female business owners. From clothing and accessories to handmade items, medical services and beyond, the Windsor Yacht Club was bustling with energy. I met so many great women, learned about some pretty cool businesses and even enjoyed a cocktail. Blab was proud to be a sponsor providing free (and blue) #girlboss cocktails to attendees, a door prize and goodies for the 50 vendors.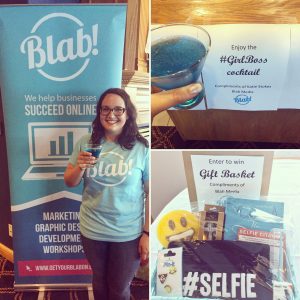 While the event only lasted a few hours, I was able to catch up with some friends and meet some people I've only ever chatted with on social media. I discovered some cool new products, businesses and people as I walked through the vendor space enjoying my delicious blue cocktail.
Crossing my fingers that more events like this happen in the future. It's great to go out and support the community while socializing and networking. As a female entrepreneur, it's always great to meet more women who understand the struggle and the joy of entrepreneurship.
What are some of your favourite female-run businesses in Windsor-Essex? Share them in the comments below!